shalom posting in

nosh
It's Passover, so that means a prohibition on eating leavened bread. That also means lots of dishes based on matzoh and/or potatoes.
A traditional, delicious dish is matzoh meal pancakes. These can be served as a main dish at breakfast, or as a side for lunch or dinner. This recipe elevates the basic matzoh meal pancake to new heights, with additions of nuts and a sweet coating of honey. Takes about 30 minutes and well worth the effort.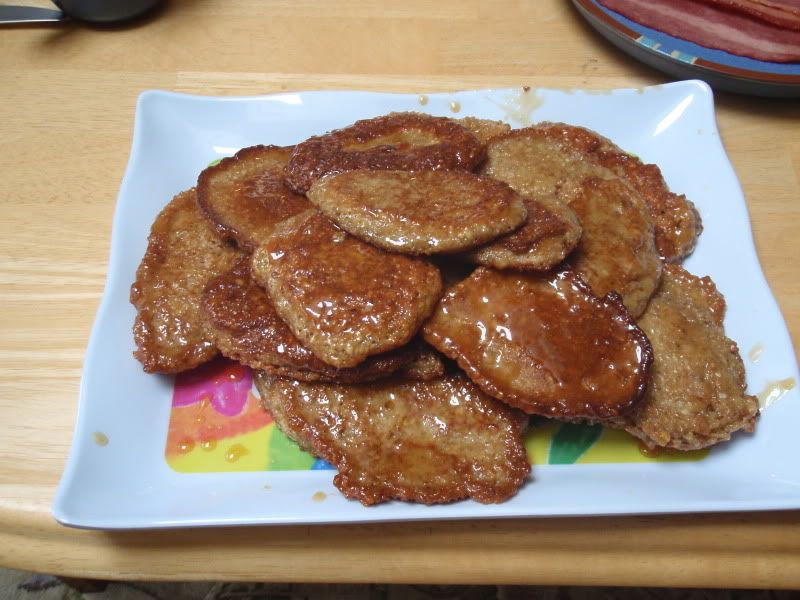 Ingredients
1 cup matzoh meal
1/2 cup (4 oz) finely chopped nuts (I used almonds, but walnuts would be fine)
1 tsp ground cinnamon
1 tsp granulated sugar
1/4 tsp kosher salt
1/8 tsp granulated ginger (optional)
1 cup water, sweet wine*, or mead
4 large eggs, beaten
Oil (canola or light olive oil)
1 1/2 cups honey
Directions
Mix eggs and water/wine/mead together.
Add matzoh meal, nuts, cinnamon, sugar, salt, ginger. Stir together and let sit for a few minutes; the mazoh meal will absorb the liquid (batter may at first appear to be too thin, but it isn't).
Consistency should be thicker, but pourable from a spoon. If it's too thick, add a bit more liquid until you like the consistency.
Add oil to a frying pan over medium/medium-low heat.
Fry pancakes, turning when each is light brown, then remove from pan and put aside until all pancakes are made. (I remove each and put on paper towels, to absorb any excess oil).
Drain oil from pan.
Add honey to pan and bring to a boil; it will thin and froth.
Working in batches, add the pancakes back in and coat them with the honey. Plate the completed pancakes and pour any extra honey left in pan over them all. Serve hot.
Notes

I tripled this recipe this morning and it made about 30 3" pancakes.
In tripling my recipe today, 1/3 of the liquid (1 cup) was some of my mother's horrid Manischewitz white cream concord wine left over from our seder the other night, and it was a great addition to the recipe.